MoneyLife
Two thirds of all Endowment Policies in Britain do not reach maturity with the first owner. To surrender a policy prior to maturity is not recommendable, because the value offered by Life Offices as "Surrender Value" is comparably low and does not reflect the real value of the policy.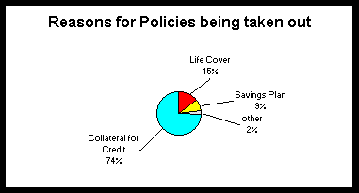 Source: C.B.I. Information Brochure, February 2000


Life Offices are investing firmly for the term of the policy and are, therefore, not interested in early surrender: That is the reason for the low "Surrender Value" offered.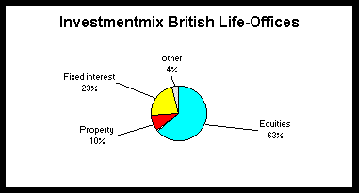 Source: C.B.I. Information Brochure, February 2000

The policyholder is, therefore, well advised to offer his policy to the secondary market where he will get a higher price as compared to the "Surrender Value".

CREATIVE BRITISH INVESTMENT INFORMATION LTD. is offering through WIMPOLE´s OFFICES worldwide Traded Endowment Policies for sale whose minimum term is 5 (five) years, and the guaranteed value consisting of the sum assured and all bonus values known at the time of purchase. These guaranteed values will be paid out if premiums are paid up to the maturity date. The Investor is, therefore, buying a policy with an already guaranteed value at the time of purchase.

Transfer of Ownership

With the purchase of a policy the Investor receives and buys
the absolute rights and obligations to a Traded Endowment Policy and has to pay premiums for the remaining term of the policy. That transfer of rights and obligations is been done by a "Deed of Absolute Assignment", signed at a
Notary Public in Great Britain. (Of course the Investor needs not to be present at the Notary´s office). That deed is then been presented to the Life Office for written acknowledgement of the new owner, the "Absolute Assignee" who pays the outstanding premiums to the end of the term of the TEP and receives upon maturity the total Maturity Value. Should the Investor wish to sell his TEP to another Investor, a new deed will be made up and the Life Office will be advised accordingly.

Who can buy a Policy ?

There are no restrictions regarding the nationality, age of the Investor and/or health of the person. Also corporate entities can purchase such TEPs. Inquiries from all EU Countries and from other Countries wordlwide in any freely convertible currency are welcome. We shall always adhere to the "British Money Laundering Regulations of 1993" when firmly accepting orders.

Death of the Life Assured and/or the Investor

Death of the original owner terminates the Traded Endowment Policy and the Policy is paid up. The payoff consists of the sum assured, all accrued bonus values and a terminal bonus equivalent to a terminal bonus of an endowment policy of similar length.

If the owner of a TEP dies, the policy will go into his estate and regular inheritance procedures will start. The beneficiaries of the estate will become the absolute assignees and can handle their inheritance as they wish: Either to pay premiums to maturity and get the full maturity value or sell the policy on the secondary market. If TEPs have been purchased by two or more persons under the term of "Beneficial Joint Tenancy", then the part of the diseased person will be transferred to the survivors.

____________________________________________________
home

Select Language | About us | MoneyLife Investments | General | Trade in Policies | Low Risk | My Profit | Contact us | GeldLeben | Mein Gewinn | Kontaktieren Sie uns